Customised Lighters
Are you looking for cheap promotional products? Search no more! Our lighters are exactly what you're looking for. You can customise there with your logo for a fraction of the price and spread these around at the next company event or teambuilding.
Table of Contents
About Lighters
It was only 3.4 million years ago that humans turned to fire for survival, and although it was initially feared, soon enough it became the tool that powered humanity.
Contrary to popular belief, the lighter is in fact a predecessor of the matchstick; as early as 1823, small devices were created to conceive flame. A German chemist by the name of Doebereiner being accredited with the innovation.
It wasn't until 1826 that a man named John Walker invented the first match. After that, a few popular models such as Zippo and BIC became the norm when it comes to high-quality lighters. Regardless if you're a smoker or not, owning a lighter is completely normal and in most cases very useful.
Customised Lighters as Promotional Products
Lighters are an every household essential that is part of our routine - whether it's for lighting a candle, a stove or a barbecue, we all need one good lighter around the house. From lighting candles, cigarettes or fireplaces, the regular use makes it a great promotional product as it ensures regular contact and visibility for your brand.
Who does not carry one of these useful enablers? Through a daily use, these customised items will make sure that your business is present in your customer's' day to day lives. Promote and distribute these lighter at big events, exhibitions, shops or company gatherings and increase the chance of being memorised.
You can also sweeten the deal by putting together a nice corporate gift with our bestsellers - water bottles, bags, mugs, umbrellas, lanyards and pens to make the perfect gift hamper for any occasion.
Advantages of Customised Lighters
We believe you should consider this promotional product has the for the following reason:
Won't end up in a dusty corner
Commonly used product
Versatile use both at home and at work
Affordable prices
Quick and easy customisation
High-quality products
FAQs
Why are lighters so popular?
Lighters are a popular promotional product due to their affordable price and high versatility. This means that the product can be used by absolutely everyone both at home and at work for a range of activities. Not to mention its compact size and the ability to carry it everywhere.
What are the most popular lighters?
Our most popular lighters are the BIC lighters.
Why should I consider lighters for my marketing?
You should consider our lighters for your next marketing campaign, company event or festive hamper because you can promote your brand for a long period of time with an unbeatable price.
How does the branding process work?
Depending on their material, you can personalise these and other smoking accessories through various techniques. Next to pad and silkscreen printing, you can also choose a premium engraving on metal versions. We recommend, that you design your printed products according to your corporate design, to make the company logo more memorable to the customers.
All you need to do is choose the right design, the colours and quantity you want and upload your logo at the checkout. Once we have received your payment, we will start production. It's that easy!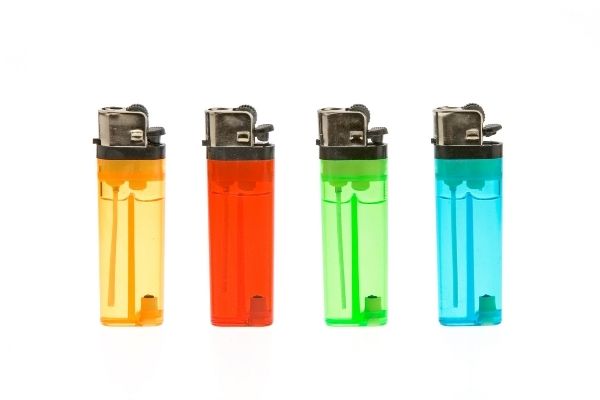 More
Less