Creating The Ultimate PR Package
Gone are the days where celebrities are paid to say nice things about your product on the TV (well, almost). As a new wave of self made celebrities walk the earth, most commonly called 'influencers' there are new, cheaper ways of advertising your wears.
Branded Merchandise For PR Campaigns
This new kind of celebrity can advertise your products for a much cheaper fee, through the power of blogging and YouTube! Influencers are unique, in that they created their audience entirely themselves, it's a much more organic way of creating followers, and it breeds the kind of long term customer loyalty that most companies can only dream of.
Paid Sponsorships
A lot of these online content creators exist on YouTube, which is fantastic advertising space, especially if your target audience is of the young variety. Other than asking these stars to work with you for a paid video (in which they talk about your products) another, more affordable way to advertise is to simply send them your products, and hope they are so impressed that they can't help but talk about you across their social media accounts, maybe even in a video too. Most recently, Estee Lalonde was sent the Black Opium perfume by Yves Saint Laurent, but they sent it to her inside a cool box, which contained the perfume suspended in a giant block of ice! What a bizarre yet unique way to make your brand stand out from the crowd. Influencers get sent a lot of products, from a wide variety of different companies, so it can be hard to distinguish yourself from your competitors.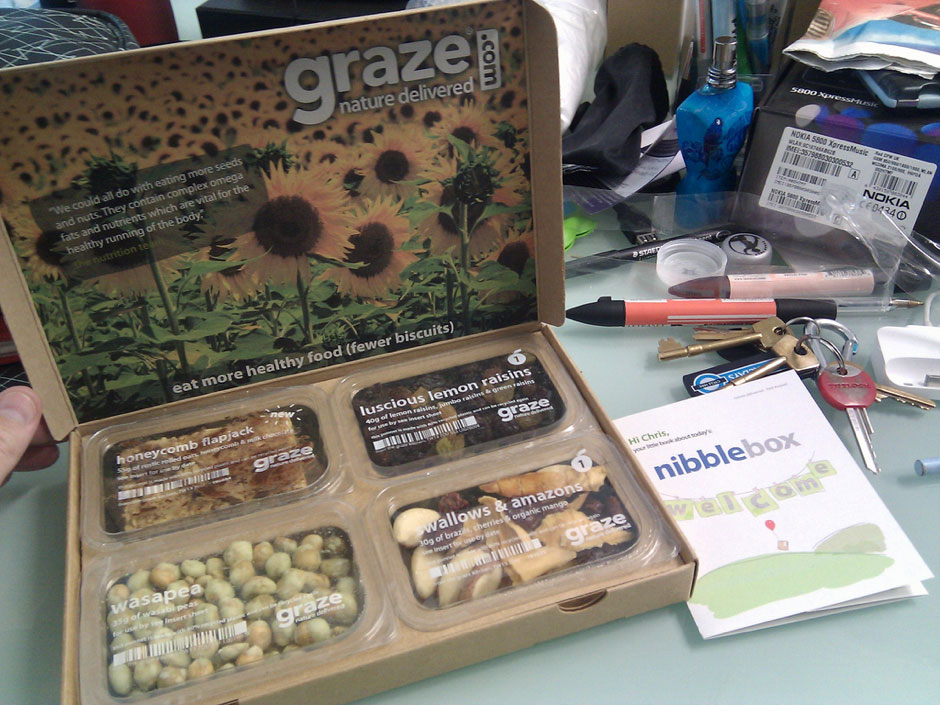 Graze PR Pack
Keep it on Brand
The golden rules for appealing to influencers through PR packages is as follows: Make sure your product or service is something they will actually be interested in, but also something that will appeal to their followers. If someone predominantly talks and writes about gaming, it would be appropriate for a brand like Nintendo to send that person their latest games console. Similarly, if the celebrity focuses on fitness and nutrition, brands like Hello Fresh or Graze or Sourced Box might want to send them a selection of their healthy snacks.
Be Creative
Its also important to make the package aesthetically pleasing, this is where your creativity can shine. Everyone loves a theme, if your product is a tropical drink for example, you could fill the PR package with fresh fruit and palm leaves. The more well thought out and different your package is, the more memorable you'll be. To further solidify your branding in their lives, you can also fill the package with promotional products, these could be anything from printed pens, to customised notebooks. Choosing a practical, every day item will ensure the influencer uses your product on a regular basis. To read more on influencers and how to work with them, read our blog post on The Power of Influencers.