Start your Christmas shopping early this year with our unbeatable Black Friday Deals. Check our live blog every day to discover a new 24-hour discount code. Isn't that exciting?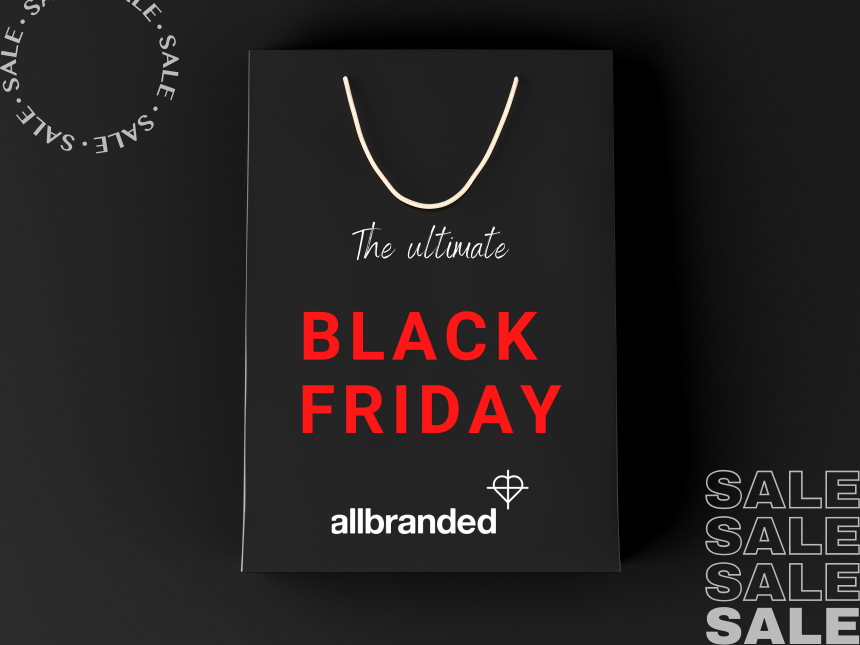 Black Friday is just around the corner, and we all know what that means. Sales, sales and more sales! Here at allbranded we're no strangers to great deals, and we want to give you the opportunity to check out some of our amazing personalised Black Friday offers!
Whether you think your brand can use a little more exposure, company themed gifts for that upcoming Christmas party or you simply want to spice up office life with personalised water bottles, we at allbranded can help you find your dream product.
At allbranded we're your go-to call for company gifts and branded merchandise. Stocking thousands of promotional products just waiting to be gifted to clients, employees and business partners, there's bound to be something to catch your eye and help your brand stand out. Simply select your favourite items from our website, upload your logo, confirm your order and we'll do the rest! After a few work days you'll find your brand new branded merchandise waiting on your doorstep.
When is Black Friday?
This year, Black Friday UK falls on 26 November, but you can find great deals throughout the entire week and shop for all the right essentials. If you forgot to shop for company Christmas gifts, now's the perfect time to start browsing.
Black Friday 2020 - 27 November
Black Friday 2021 - 26 November
Black Friday 2022 - 25 November
Why is Black Friday celebrated?
Black Friday is one of the biggest shopping events of the year throughout the world, not just in the USA. This occasion marks the unofficial beginning of the Christmas shopping season and many people benefit from getting everything for their loved ones at a faction of the price.
How long does Black Friday last?
The Black Friday itself lasts only 24 hours, but many retailers offer great discounts starting the Monday before. Additionally, Cyber Monday which is right after the Black Friday weekend is another great occasion to shop, if you've missed the event.
What is Black Week?
Black Week or Black Friday Week starts the Monday before the actual event and will generally last until the next week, ending with Cyber Monday. This year, Black Week takes place between 22 November and 29 November.
Black Friday Deals
Over the Black Friday Week we have limited 24-hour deals on many of our most popular products, so make sure to bookmark our page and keep checking in so that you don't miss a thing!
Monday
We know that once you've set your heart on something, you want it fast! That's why on Black Friday Week - on Monday, we're giving a 15% discount code on all our express products! With only four days from enquiry to delivery, these products are perfect for that last minute rush buy! We have a wide range of express items, from personalised bags to pens, customised mugs to sportswear. We've got a line-up that's bound to impress. Look out for the rocketship next to any of our item categories on the website to find all our express items!
Tuesday
Nothing says cosy better than a warm cup of tea in your very own personalised company mug. Which is why on Tuesday we're offering 15% off on our wide range of Cups & Mugs. Why not make that office a little more cosy this upcoming winter season, be the centre of attention at that next meeting, or simply add that cosy little bit of style to your workspace!
Wednesday
With all our great deals and offers, we know you'll need some way to carry around all those stylish new personalised products you've received! That's why on Wednesday we're offering 15% off our range of personalised Backpacks! Complete that custom branded feel with your very own matching backpack, it'll be sure to turn heads.
Thursday
Here at Allbranded we're committed to helping support the world and the environment around us. This means that on Thursday we're offering 15% off all our Eco Friendly products. Promote your business, expand your network and give that office a little bit of extra oomph while knowing you're also helping our planet with each and every purchase.
Making your brand greener isn't only responsible, it's forward-thinking. Eco friendly products and environmentally sustainable business models are growing more and more in popularity as we, as a society, become more and more self-aware. With our Eco friendly products you can help your brand stand out from the crowd within this greener modern age.
Friday
Of course, on the penultimate Black Friday itself we can't simply limit ourselves to partial sales. As such, we want to offer you 10% off all our wide range of branded merchandise! And because we don't want any of you to feel that you've missed out, we're not only offering this sale for Friday, but throughout Saturday and Sunday as well! Grab your favourite products up as fast as you can because, as with any Black Friday sale, stock is bound to fly off the shelves!