A few months ago, we started to conduct our own study on the topic of "Promotional Products in Companies and Organisations". Of course, we don't want to keep this from you any longer! Read more about the insights and the results in this blog article.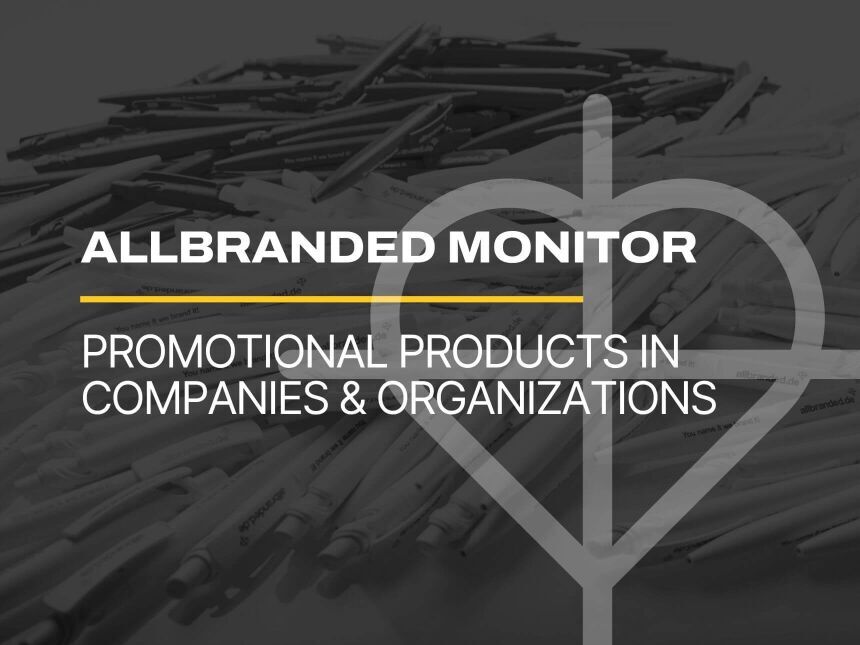 For us at allbranded, it is not just the sale of promotional products that play a crucial role in our day-to-day business, it is also connecting with the customer and clients to learn more from them. We want to know, how important are promotional products for companies and organisations today and in the future? What do they classify as the perfect promotional item? Did the COVID-19 pandemic have a large impact on how or even if companies used promotional marketing? This is what we ask ourselves every day in the life of a promotional products retailer. In order to come to more precise conclusions, we conducted our own case study to find out. Read more to see some of the highlights and find a copy of the detailed results as well.
Our Case Study: The Research Phase
In order to gather data, we published and conducted a survey in March - April 2022. The goal of the survey was to gain deeper insights into how promotional products were being used by the companies and organisations that buy from us. We were looking to learn more about how much these businesses spend on promotional products, how often and for what occasions promotional products are used, and what characteristics make up the perfect promo item. The questionnaire consisted of 19 questions, and we had 120 respondents participate, all of whom were employees of a company, an institution or an organisation who had a direct say in whether promotional products were purchased. Once the survey was completed, there was a 200€ Amazon gift card raffled among the participants. Maybe next time you can participate and be entered to win one too.
Intrigued? First Glimpse of the Results
Now for the best part of the blog, the results! Once we had all the responses to the survey, we statistically analysed the answers. Here are some of the top highlights and takeaways from our results:
Approximately 60% of the respondents count promotional products among their top 3 most important marketing measures, with social media and event marketing rounding out the top 2 spots. For 22% of participants, the use of promotional products is considered the most important form of advertising in their business.
8 out of 10 participating companies and organisations predict that their spending on promotional products will either remain the same or will even increase over the next 3 years. Only around 16% of respondents believed their promotional item spending would decrease over the next few years.
Sustainability also plays a major role in promotional products. The majority of survey participants confirm that sustainable and eco-friendly promotional products are increasingly important for their target group.
These initial results already show that promotional products continue to play a major role in the advertising activities of companies and organisations. Every year, businesses spend a fixed proportion of their advertising budget on promotional gifts, and plan to continue doing so in the future. Sustainable and eco-friendly promotional products are being purchased more and more frequently, as companies and organisations in particular, attach a great importance to the sustainable aspects of promotional gifts. In addition to the increasing presence of online marketing measures, such as SEO, SEA or social media, printed promotional items continue to be a form of offline advertising. Companies and organisations have realized that giveaways draw the necessary attention to their brand and since promotional items are tangible and last longer, this gives them a decisive advantage over online media.
Want to Learn More? Read the In-Depth Analysis Here
This blog article provides only a few highlights of the full results of our study, to give you enough of a taste to keep you wanting more. If you would like to dive into the full results, we have summarized them in a detailed white paper. In our white paper, you will find the full answers and data to all the questions in our online survey. We also show the occasions in which promotional gifts are most frequently used, the characteristics of the perfect promotional product, and the influence COVID-19 has had on the use of promotional products.You can download it here in PDF format free of charge.
Many Many Thanks!
As part of our study, we would like to thank all 120 participants! Thanks to them, we were able to achieve great results that help us understand our customers even better and optimize our online store accordingly. At allbranded, we would be happy to have such projects take place more often in the future because we not only see ourselves as a business, but also as an expert in the promotional products industry. Only then, can we best respond to the wishes of our customers and be successful with them together. We are also happy to receive valuable feedback. If you have any comments or questions about our study, or even ideas for future topics, we would be happy to hear from you at any time: info@allbranded.co.uk