Corporate Umbrellas
Looking for umbrellas? Search no more! Get the perfect branded merchandise to protect you, your clients and your employees from the ever-changing British weather. This elegant accessory is the perfect place to promote your business and keep your brand top of mind all year round.
Table of Contents
About Umbrellas
Umbrellas or parasols are folding canopies are hand-held devices meant to protect people from rain or sun rays. Umbrellas have been used as accessories since thousands of years ago by the wealthy people and were decorated with silk, ivory and gemstones.
In the 17th century, the umbrella started its conquest in Europe. The first pocket umbrella was invented in France. In two hundred years, the umbrella spread across all classes and was mostly used to protect against rain rather than sunshine.
Nowadays, each household owns at least one of these. Whether you're commuting from home to work or you're just walking from your car to the entrance, we all wish we had a sturdy umbrella on rainy days.
Umbrellas as Promotional Products
A personalised umbrella is a functional companion around the year and contains an excellent platform for advertising space, which transports your brand on the way to work and back. Umbrellas are excellent visual stimulators, making the most of vibrant colours and contrasts to stand out in the dominating black umbrella market. That is a great and bright view for everyone around.
Corporate umbrellas can be extremely durable and bring you results months after your initial purchase. Business owners and marketers are encouraged to focus on quality, usability and durability in order to get maximum effect. A brolly offers you many ways to tailor the product with your brand and message. From choosing the right printing technique, right up to the style of handle, we offer a wide assortment of options.
Many companies already discovered the benefits of handing out umbrellas, which is why brollies are often times part of the creative marketing and communication campaigns. The possibilities are many: as giveaways for customer acquisitions at a trade show, as premium gifts for loyal clients, or as a gift for employees or business partners. Of course, printed in your corporate design and with your logo.
Advantages of Corporate Umbrellas
Our corporate umbrellas will bring you the following advantages:
Large advertising area
Quick and easy customisation
Affordable prices
Everyday essential that will not end up unused in a dusty corner
Lots of options to choose from
Express production and delivery
Timeless object that can be used by absolutely everyone
Order Process
You can customise our items with just a few clicks. All you need to do is choose the one you like most from our website, then select a colour, the branding and the positioning of your logo. Last but not least, don't forget to input the quantity. After all this is done, add the configuration to your basket and upload your logo at the checkout.
If you're unsure how the product might look like, we recommend you request a free print preview. You'll get to virtually inspect the promotional product for free, and it only takes a few hours to receive this to your inbox. It's that easy!
Types of Umbrellas You Can Find
Umbrellas are classic promotional products, so we recommend you include one of these in this year's corporate hamper. Here you can see what types we offer:
Large golfing umbrellas
Folding parasols
Automatic ones
Double layered
With metal or wooden handle
With express delivery
Windproof and more
FAQs
Why are corporate umbrellas so popular?
Corporate umbrellas are a popular promotional product because of its high-frequency use and versatility. This means that throughout the UK, the brolly is an indespensable accessory all year round and that it can be used by absolutely everyone. Which is why it can be used both at work and at home by the entire family.
Do you offer eco friendly products?
Yes, we offer eco friendly products. Browse our page and you will find options such as this IMPACT Aware dual colour umbrella or this IMPACT Aware bamboo mini umbrella. For even more options, discover our Eco Friendly Products page.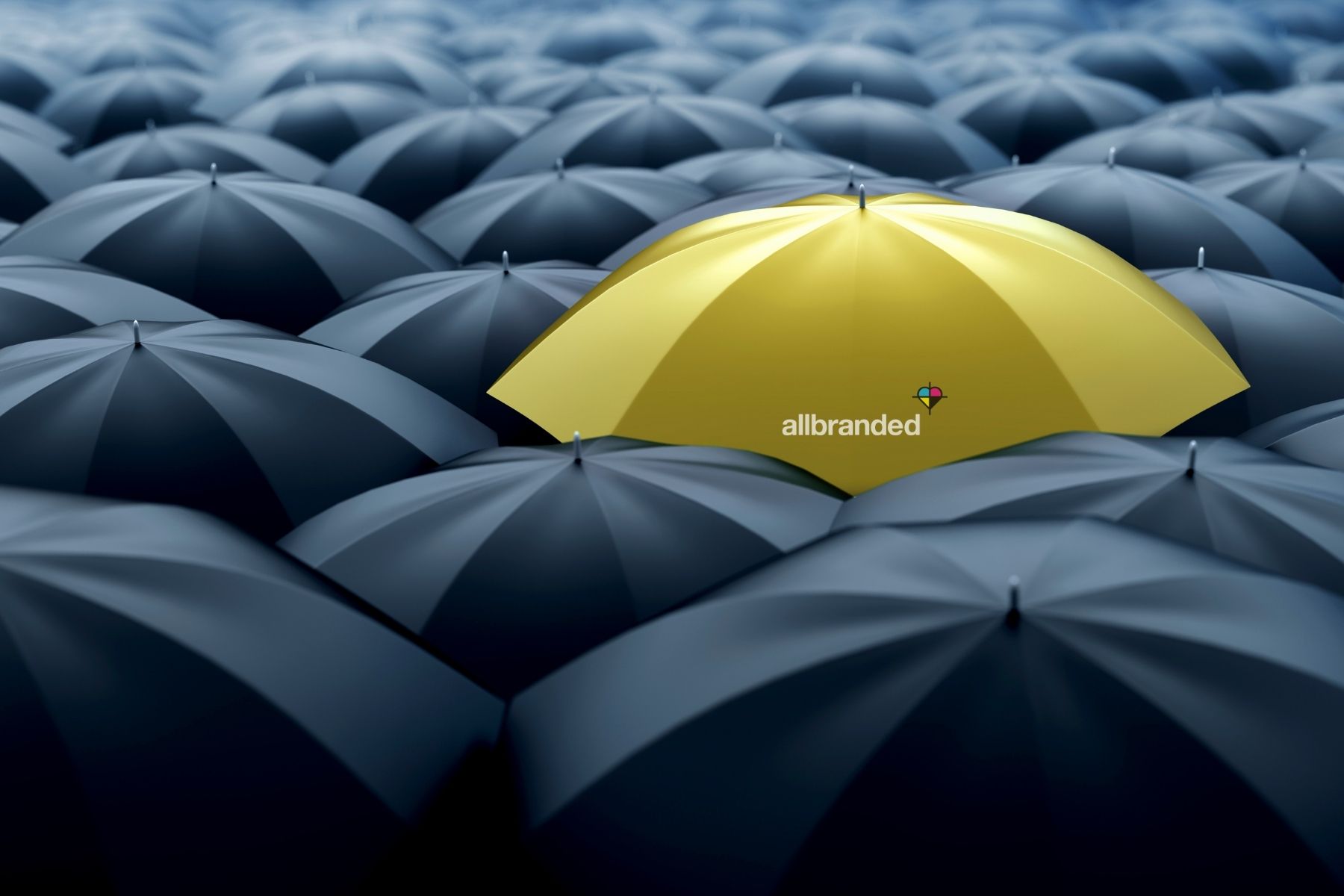 More
Less