Stay Warm With These Winter Essentials!

It's cold outside! This season calls for cooler promotional products and we'll have you covered for all your branding needs.

Can't go wrong with branded blankets, umbrellas or hats!
Bulk order promotional Christmas gifts
Priority options available

Shop For Winter

Promo Products for Your Industry 🏭

Surprise your target audience and employees with these industry specific promotional products.




Spend less time searching for the right branded merchandise
Browse through a wide assortment of items
Niche promotional products for every occasion

Shop Industry Specific Products

Eco Friendly Promotional Products 🌱

Our eco friendly promotional products will make new customers sway your way.




Made from recycled materials
Benefit from unbeatable prices
Get bags, pens, drinkware, stationery and so much more

Shop Sustainably

Legendary Employee Gifts for the Winter Season

Put together thoughtful Christmas company gifts for employees and clients this year!

Choose from a wide range of corporate Christmas gifts
Benefit from affordable prices for bulk purchases
Thank them for their amazing work

Start Browsing Now

Products Made in the UK 🇬🇧

Browse through a myriad of promotional products manufactured in the UK. What's your favourite one?

Support local manufacturers
Benefit from affordable prices and fast delivery
Browse through a wide range of promotional products

Shop Locally
The Best Branded Merchandise and Corporate Gifts
Established in 2011, we are a small company that operates in Europe, the UK and the USA. We offer an extensive range of branded merchandise and corporate gifts, hence we are your one-stop shop for everything promotional.
We have many branded items in stock that can be gifted to clients, employees and other business partners. Here you will find a myriad of choices; from classics such as promotional pens, and branded water bottles to branded tech gadgets and many more unique promotional gifts.
The Benefits of Branded Merchandise
Branded merchandise has a plethora of advantages such as:
Increased brand recognition: Branded merchandise creates awareness and loyalty for your brand when it's seen often.
Affordable marketing: Compared to other strategies, promotional products can in fact be quite affordable as prices start from just a few pence per unit.
Wider reach: You can reach a wider audience and generate interest from potential customers who may not even be aware of your brand.
Positive association: Receiving promotional products branded with logo can create a positive association with the with company handing it out.
Differentiation from competitors: In a competitive market, the smallest of details can make a difference. Stand out from the crowd with our corporate gifts.
Long-lasting impact: Most of our products can last for months and years on end, hence you get free advertisement at no extra cost.
Pick the Best Promotional Gifts
Are you trying to make your mark by carefully handing out brand merchandise? If you don't want to spend money on items which will end up in a dustry corner, then follow the next 3 basic criteria:
Usefulness- Make sure your purchases are useful for the recipients so they can use said items as much as possible. Put yourself in the shoes of the receiver and use your common sense.
Go for the Classics - Although unique branded merchandise can initially draw more attention, these items tend to be forgotten after a while. Yes, maybe a branded game would be fun, but a branded water bottle will be used every day.
Quality - Although this is a bit of a cliché, a high-quality product will stay top of mind for longer, be used with more satisfaction and improve your brand image in the eyes of customers as well as employees.
CORPORATE CHRISTMAS GIFTS
With Christmas just around the corner, early preparations are the key for success. Traditionally, the festive season is when business is booming and sales are rocketing. Make sure you have the right marketing plan in place by then and that you've already acquired all the Christmas gifts for clients so that they can be reminded of your company.
What's more, you can also prepare in advance the corporate Christmas gifts for employees which are a must before the holidays. You need to make sure you have prepared a fantastic festive hamper for staff to make them feel appreciated and valued for their services otherwise you risk to start the New Year on a bad note.
Keep in mind, business Christmas gifts whether for clients or employees, don't actually need to break the bank. You can in fact, discover lots of affordable gift sets, branded advent calendars and even eco friendly Christmas gifts. Start planning now to avoid the shopping frenzy later.
Priority Production and Priority Promo Products
All of our products make excellent choices for your company gifts, but some stand out as particularly special. Known as priority promotional products, these are items that can be produced within 48 hours, and delivered within the next few days.
This means that you can select the product you want, upload your company logo, and we will print your items in just 48 hours and then ship your products. If you require a large quantity of unique branded merchandise in a short amount of time, such as last-minute Christmas gifts for employees or giveaways for upcoming trade shows, priority production is a fantastic option.
INDUSTRY SPECIFIC BRANDED MERCHANDISE
Industry-specific branded merchandise refers to promotional products that are tailored to meet the unique needs and preferences of a particular industry or sector. This specialised approach recognises that different industries have distinct characteristics, target audiences, and promotional goals.
By creating branded merchandise that aligns with the specific industry, businesses can effectively communicate their brand message, strengthen relationships with customers and partners, and enhance brand recognition within their niche.
Industry-specific branded merchandise can range from functional items that cater to specific professional needs to creative and innovative products that resonate with the industry's culture and values. Whether it's healthcare, pubs & restaurants, schools, or any other sector, industry-specific branded merchandise offers a powerful tool to showcase expertise, foster loyalty, and differentiate businesses from their competitors.
If you're aimlessly browsing the website and still don't know what to pick, don't panic, we're here to save you! We strongly recommend you have a look at our Inspiration section where you can find lots of events and occasion with cherry picked products so that you can decide faster.
In addition, we also have a blog section, where you can read more about upcoming events and how to plan future campaigns. You will find lots of inspiring tips as well as new about the promotional products industry.
THE ALLBRANDED CASE STUDY: INDUSTRY INSIGHTS
Our case study was conducted on promotional products in companies and organisations, key findings emerged. Around 60% of participants considered promotional products among their top three marketing measures, with 22% viewing them as the most important form of advertising. Approximately 80% expected to maintain or increase their promotional product spending in the next three years. Sustainability played a significant role, and printed promotional items were seen as valuable in offline advertising. Read more about our study's detailed whitepaper and find our more useful insights about this industry.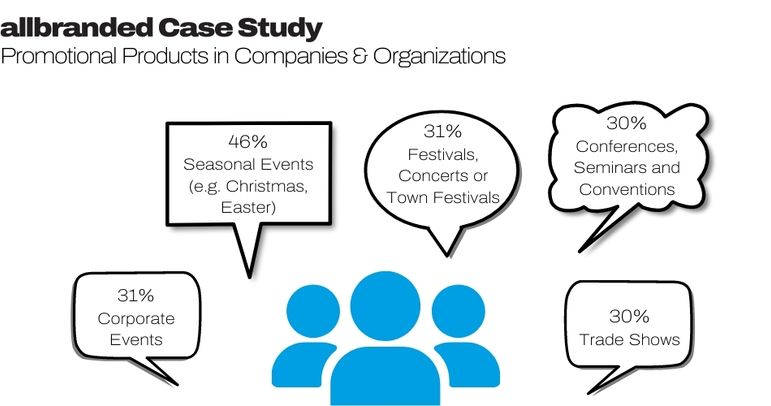 Promotional products have become an integral part of marketing strategies across industries. These items, adorned with company logos or branding, serve as powerful tools for increasing brand awareness, fostering customer loyalty, and attracting new business opportunities. From trade shows and events to customer appreciation initiatives, promotional products offer a tangible way to engage with audiences and leave a lasting impression.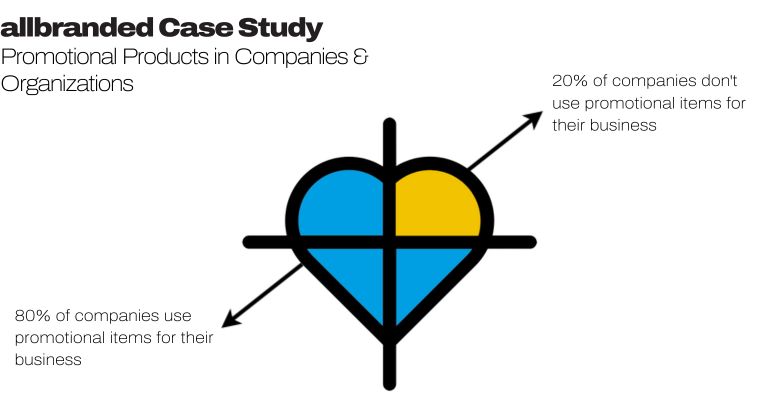 Our promotional gifts and products serve as excellent resources for promoting your business, fostering brand recognition and customer loyalty, and ensuring overall employee contentment. A substantial 80% of companies are already leveraging this offline marketing strategy to amplify their brand presence and expand their offerings.
FREQUENTLY ASKED QUESTIONS
Here are the answers to a few of the questions our shoppers asked. If you have even more questions, check out the FAQ page.
What is branded merchandise?
Branded merchandise, also known as promotional products or swag, refers to items that bear a company's logo, name, or message and are distributed to promote a brand or business.
Corporate gifting is the practice of building a bridge between a firm and its employees, clients and other prospects, either physical (such as notebooks, calendars or hampers) or non-physical (such as experiences or e-cards). It's a way of showing appreciation, a sign that you value their work and wish to continue the collaboration.
What are company gifts used for?
Do you have a company event coming up? Regardless of whether you're organising a black-tie event, a giveaway, an exhibition or a seminar, here you can find a great selection of industry-tailored promotional items for corporate merchandise, hampers and PR packages. If you have an idea in mind of a branded promotional product, then it is almost certain we have it in our inventory, ready to be printed with your company's logo and colours.
Do you offer eco friendly promotional products?
Indeed, we do provide a wide range of eco-friendly promotional products, including items crafted from environmentally conscious materials such as bamboo, recycled plastic, wheat straw, cork, recycled cotton, and many others. Our assortment of eco-friendly products not only exhibits a sleek and contemporary design but also serves as a valuable addition to any promotional marketing campaign.
By incorporating our eco-friendly products into your marketing efforts, you can effectively showcase your company's dedication to sustainability. Enhance your brand's image by branding some of our eco friendly merchandise, demonstrating your commitment to a greener future.
How can I get my logo printed on promotional products?
Getting your logo printed on promotional products and branded merchandise is a piece of cake for our shoppers. In fact, all you have to do is simply upload your logo at the checkout and keep your eyes peeled for the mock-up email that needs approval. We will start production as soon as you sent the approval.
More
Less