Personalised Stationery
Are you looking for office suppliers? Look no further than our stationery section where you can browse through notebooks, sticky notes, portfolios and much more. All these items can be branded with your logo and turned into the perfect company gift. Simply choose your favourite, order, upload your logo, and we'll get to work. It's that easy!
In addition, you can also browse through a wide range of writing tools in the Pen & Pencils section on our website, where you will find something for every budget.
Table of Contents
About Stationery
Ever since childhood, we've been used to getting new stationery at the beginning of the school year. For many of us, shopping school essentials was a great way of bonding with our parents and marked the beginning of a new period in our lives. Although those days are long gone, receiving stationery can still have the very same positive effect on everyone.
Regardless of what your business does, having high-quality stationery and office supplies can say a lot about the brand - whether you're willing to invest in your employees and whether you value quality over price. So make sure that these promotional products say something about you. We recommend avoiding cheap, low quality products that might harm your image in the eyes of your clients and employees.
Personalised Stationery as Promotional Products
Your workday starts and ends at your desk, and if you stop to consider just how much of your life you spend at work, it puts things into perspective. As humans, we pay attention to minute details and the very things can influence our mood in the subtlest of ways. So office workers, much like you, will work at a cluttered work desk for an average of 8 hours a day, that can either make or break the relationship with their employer.
But not to worry, we are here to help. You can find a wide assortment of promotional products which will not only make your employees happier, but increase motivation in the workplace. Our personalised pens, notebooks, sticky notes, notepads and many more will help you achieve a consistent business image and will be proudly used on a daily basis by your colleagues and employees.
Branded Desk Accessories
You can accessorise your desk as well as your fellow employees, customers and soon-to-be customers with your very own branded merchandise. We rely on these products every day, so why not make them multifunctional? On top of their basic and primary use, whether it is mousemats, lanyards or printed USB stick; they can also act as your own marketing campaign.
The personalised pens, pencils or mugs must only reach a single person in one office to optimise its effect; consider how many times you move around in your space. Twice a day to get your dose of caffeine, twice daily to get your lunch and clean it up. Toilet breaks, maybe a cigarette break or just some fresh air? Perhaps you move to a colleague's desk to join them for some chit-chat. Or you have regular appointments which means you are running around the whole day. So how many people do you make contact with while you are running around with folders, bags, holders or printed calculators? Is it in the tens? Twenties? More?
Now that the question of frequency has been answered, how about the length of time we spend at our workplace? Usually five days a week, 9-5. This means you spend roughly 60% of your life working. The point here is that you can do even more work with no effort at all, unlike all your other daily tasks. The effortless, subtle and automatic form of advertisement that promotional products bring which include and are not limited to our promotional (often eco-friendly) bags, mugs, pens, umbrellas and keyrings.
Benefits of Personalised Stationery
We believe our personalised stationery comes with the following advantages:
Wide assortment of promotional products
High-quality products at unbeatable prices
Eco-friendly options
Excellent usage in frequency and longevity
Your logo will be on proud display
Can be used by absolutely everyone
FAQs
What is stationery?
Stationery refers to everyday essentials such as paper materials, pens, pencils, folders and many other desk accessories. Stationery can be used by kids at school as well as adults in the office.
What is personalised stationery used for?
We are committed to selling items that are truly useful; because more often than not, the company gifts that we receive, we end up not using at all. Which is why, the majority of our promotional products can be used for years on end by absolutely everyone, regardless of age, gender and role.
If you're unsure about what personalised stationery can be used for, here are a few times when they might come in handy:
Company gifts to clients and employees
At the office
As part of a giveaway
At company events
To build a consistent brand image
Do you offer eco friendly products?
Yes, we do. Browse our page to find from eco friendly sticky notes to sustainable cork hard-cover notebooks and so much more. For even more of these items, shop on our Eco Friendly Products page.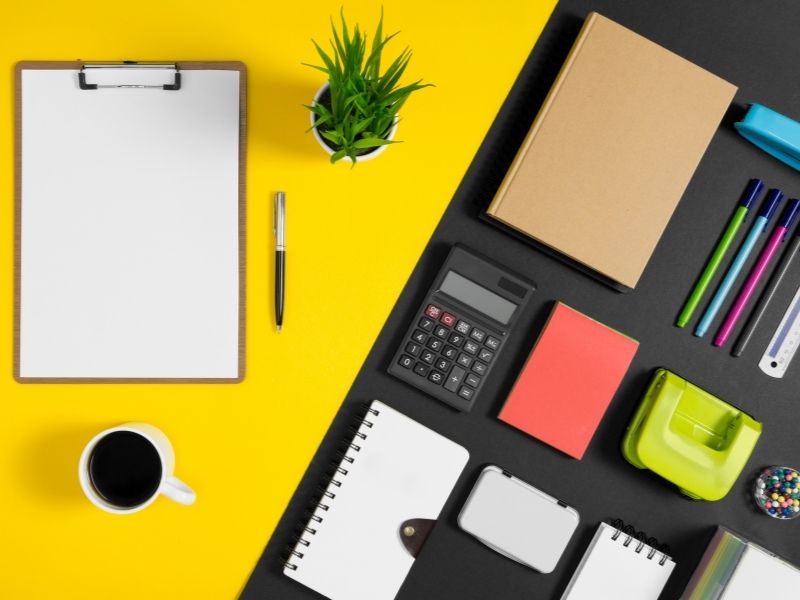 More
Less