Branded Notebooks
Almost all great ideas have been scribbled down on some form of paper. It's almost natural for anyone to put that one "Eureka" moment in their notebook or diary - sometimes even a scrap piece of tissue paper. This is where promotional notebooks are handy. These make great gifts for employee onboarding, conference gifts, corporate events, promotional giveaways and general company branding. Branding is easy and they last quite a while.

We have plenty of options for branding initiatives that are more eco-friendly focused as well as affordable options for the more price conscious. Don't forget to have a look at our products that can be made with EXPRESS production, so you get your branded product faster. Reach out to our customer success team if you have any questions!
Branded Notebooks: A Promotional Classic
Regardless of any technological advancements, people still consider the feeling of putting pen to paper a treat. You can use your phone or laptop to take notes, but writing on paper feels luxurious and satisfying.
Branded notebooks are a great promotional item. They will make your employees or clients feel good. They can take notes in a traditional way. Don't miss the chance to give great gifts to your clients and employees.
Branded Notebooks as Promotional Products
Companies often give branded notebooks as popular gifts, so you can find notebooks and pads in any handbag or briefcase. These accompany customers, employees or business partners as an indispensable planning tool in their work and everyday life. Whether you want to store ideas, sketch out thoughts and spontaneous inspiration, use your soft skills and write it down with a pen. The necessity of notebooks is unquestionable, and so is their promotional effect.
As for branding these, we offer many options. You can opt for special branding with names, for a special event or your VIP customers. All in all, our sales team will help you assemble a fabulous promotional product. Don't forget, promotional pens should not be missing from any corporate gift if you want to make a lasting impression.
Benefits of Promotional Notebooks
Branded notebooks offer several benefits, both for individuals and businesses. Here are some of the key advantages:
Brand Visibility: Branded notebooks are an effective promotional tools that help increase brand visibility;
Professionalism: They add a touch of professionalism to your company in conferences, meetings or trade shows;
Memorability: A well-designed notebook can leave a lasting impression on the recipients for many months
Customer Loyalty: It shows appreciation and can lead to stronger relationships with your customer base.
Employee Motivation: Branded notebooks for employees can make them feel valued and connected to the organisation;
Consistency: Branded notebooks ensure consistency across your branding image
Cost-Effective Marketing: Branded notebooks are actually super affordable, compared to other promotional items.
Frequently Asked Questions
Here are the answers to a few of the most asked questions by our shoppers:
Why do people prefer branded notebooks?
Branded notebooks are so popular because of their many utilities and affordable prices. Notebooks serve not only as writing tools, but also as promotional items that can be branded with a logo.
Another reason for their popularity, is their universal aspect. Everyone needs paper to jot down quick thoughts, regardless of age, gender, or role. That's why paper is useful for everyone.
What can I use promotional notebooks for?
Notebooks and pens are great gifts for colleagues, staff, customers, or potential clients. Give notepads as gifts at conferences or trade shows to meet new business partners and leads.
In addition, you can also think about giving branded promotional notebooks as a nice Christmas gift for clients, staff, or partners. This promotional classic is an appreciated gift by absolutely everyone.
That's not all, branded notebooks and office supplies make for great giveaways for schools and universities. Distribute these every school year to assist new students in learning and increase brand awareness among young customers.
What types of promotional notebooks do you offer?
Here you can find a myriad of business notebooks. We have soft and hard cover notebooks which could be perfect for your employees. Additionally, we also have spiral notebooks or notebook sets that could impress any potential client.
Do you offer eco friendly promotional products?
Yes, we offer a myriad of eco promotional products! Keep your eyes peeled for the green label on our website, and you'll discover lots of sustainable options made of cork and bamboo. Additionally, you can explore even more eco friendly promotional products.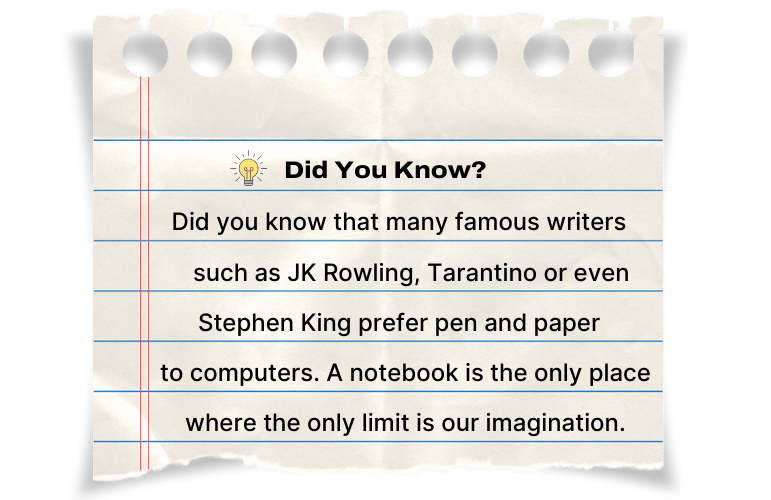 More
Less