Christmas Promotional Gift Sets
Promotional Gift Sets
Our corporate gift sets are a wonderful selection of promotional gifts that will impress absolutely everyone. You can give these branded items to workers, customers, or business partners. They will help boost your brand recognition and loyalty.
Additionally, they come at a lower cost. Furthermore, because these items are practical and versatile, people won't leave them unused in a dusty corner. Instead, the recipients and their household members will frequently use them.
In fact, being useful and having multiple purposes is exactly what you should be looking for in a corporate gift. Year-end corporate gifts can greatly impact relationships with staff and clients, either positively or negatively. We suggest selecting a versatile item that can be used throughout the year. This will help people remember your brand for an extended period, long after the corporate parties and Christmas is over.
A branded gift with a company logo shows attention to detail and professionalism, which is what you want for your company. Isn't it?
Promotional Gifts as Corporate Christmas Gifts
We selected a list of products that come in sets and would be great for corporate Christmas gif.
A few notable corporate Christmas gift ideas would be our writing sets with pens in a gift box. We offer branded glass and mug sets for both work and home use. Additionally, we have a chess game that can be printed with your logo.
Additionally, we have a whiskey set with 4 glasses at a surprisingly affordable price. Furthermore, we offer Christmas decorations that will create a cozy and warm atmosphere in any home.
The elaborate gifts will increase your brand loyalty in a jiffy while not breaking the bank. You don't believe us? Just look for yourself. And hurry up because these tend to fly off the shelves.
The Benefits of Christmas Promotional Gift Sets
Our promotional gift sets have a plethora of advantages such as:
Memorable: We've only selected products which we thought would make your brand remembered
Elegant: Whiskey sets, wooden chess games and writing sets are nothing but elegant.
Durable: These items last a while, so it's worth the money spent.
Long-term advertisement: Customers will reuse these products time and time again, instead of them going to waste.
Brand loyalty: These promotional gifts have the potential to increase your brand loyalty and show you value the recipients.
Affordable: Although some items may seem expensive, most of our promotional gifts cost less than £10.
Frequently Asked Questions
Here are a few of the questions our shoppers asked before.
Do promotional items really work?
Yes, they do. Studies show that corporate gifting improves relationships, fosters loyalty, and boosts brand awareness. It's also well know that clients who receive promotional items are more likely to buy from said company. For even more ideas, feel free to take a sneak peak at our branded gifts for clients.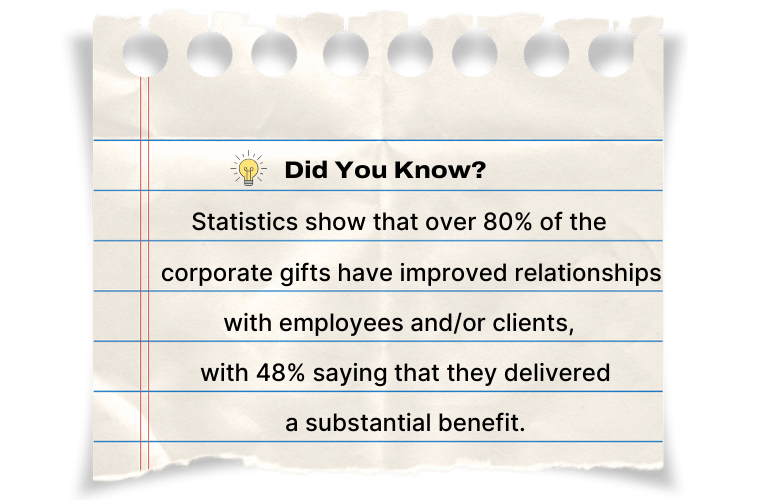 More
Less