Join in the 10th birthday celebrations here at allbranded as we take a trip down memory lane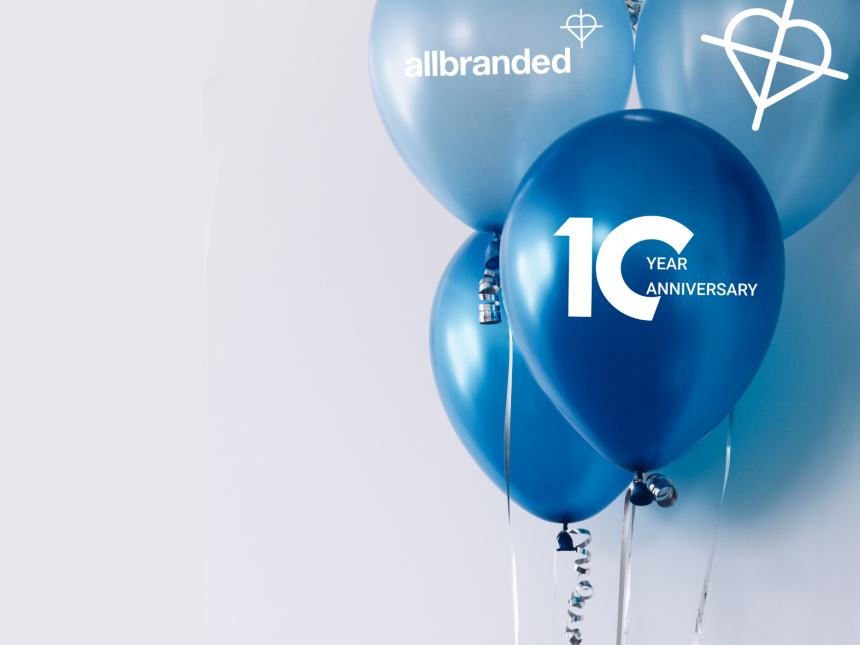 It's been 10 years now! Time flies and we still can't quite believe that we are already celebrating our 10th anniversary. After many years of hard work, numerous low points and high points, we can now look back together and review the time.
In the last 10 years, we have experienced the following with allbranded: We have conquered 8 countries with our promotional products. Since our foundation in 2011, about 90 people have worked in the company. We have changed our office a whole 7 times. We now have over 50,000 product variations in our range. We have made around 30,000 customers happy with our promotional products. It has definitely never been boring for us in the last decade! We have combed through the whole of Hamburg in search of the perfect office. We have been able to experience numerous team events and enjoy our time together in the ski resort, on the cathedral, in the casino or at festivals. And even the corona virus didn't completely throw us off our game! We got to know new ways of working and strengthened our team spirit even more. In the meantime, we see each other again every day in the office, listen to Florian sing and are excited every day about where Raimo wants to order food today. After so many eventful years, we would now like to take the opportunity to look back together as a team. Before doing so, we asked some colleagues from different departments about their personal impressions of the last 10 years.
How allbranded Has Changed
To begin with, I wanted to know how much the company allbranded and the team behind it have changed since it was founded. Especially the employees who have been with the company for a long time have been able to gain a lot of experience and witness the rapid changes first hand.
"In the beginning, even the smallest success was a big highlight. Due to the rapid growth, the pressure on turnover increased at the same time. New markets were opened up through discussions and optimisations, more staff were hired and allbranded was restructured. Departments were created and processes had to find their way. Especially during the Christmas business, restructuring was nerve-wracking, but in retrospect it definitely helped us move forward." - Steffi (Customer Service, with us since 2017)
"The change in the last few years is quite impressive. A lot has happened, especially technically. Where Excel spreadsheets were necessary in the past, automatic orders are now created and transferred directly to the manufacturers. The time saved helps immensely to process orders with a tight delivery deadline even more efficiently. In addition, there are always new suppliers who bring a lot of experience and additional printing techniques. For example, digital printing is now possible for many products, which makes it possible to realise even more designs. Of course, a lot of development has also taken place in the team. New departments have emerged over time and many colleagues are expanding the team with fresh know-how." - Sebastian (Sales, with us since 2016)
In the last few years, a lot has happened not only in terms of the number of employees and the location of the office. From a technical point of view, the years have also been used to automate processes. This has not only made it possible to quickly expand the product range, but also to use working time more efficiently for optimising the online shop. This development is continuing and further technical advances are planned for the future to simplify working methods for us and our manufacturers. The switch to new, professional tools has also made cross-departmental work much easier.
"[...] The initial to-do lists in the Wunderlist app have been replaced by a jira ticket system and we have traded in our office in a 3-room flat with a passage bathroom for a proper office building. Product data is now (at least predominantly) no longer transferred by hand from catalogues into Excel spreadsheets, but obtained directly from suppliers via interfaces. allbranded has also become international: In addition to the German-speaking market, we are now represented in several other countries and languages." - Philipp (IT, with us since 2015)
Our move into the European market is probably the biggest change of the last 10 years. Little by little, we were able to reach new markets. In the meantime, we have built up an international team with about 20 employees. This international exchange not only helps us to learn languages, but also enables us to get to know new countries, cultures and ways of thinking better. In the future, we would also like to offer our product range in other regions, both nationally and internationally.
By Far The Best Team Events...
Probably the most exciting question for the team! All colleagues had an immediate answer and quickly agreed. At allbranded, it's a tradition that an exciting team event is held after the monthly sales targets have been reached. Over the past 10 years, a number of events have taken place. Of course, the weekend trips to other regions are particularly exciting. The trip to Italy topped everything! A special highlight was the meeting with our colleagues from England. After many months, we finally saw each other again and were able to exchange ideas intensively!
"The biggest highlight for me so far was the weekend trip to Italy and the associated meeting with the colleagues from England. Together we had a great time at the ski resort, ate and drank delicious food, had a great time, laughed a lot and made the dance floor of the village disco unsafe." - Raimo (Finance, joined in 2017)
"By far the most exciting team event was our trip to Italy. The entire team from Germany and England met for a weekend in Lombardy. In addition to a trip to the mountains, there was also a club visit and an incredible amount of good food on the agenda." - Sebastian (Sales)
"The biggest highlights were probably the trip to Italy and the visit to the Dockville Festival, but unfortunately I missed both of those. The best memories I have are sailing on the Alster, laser tag, eating at Rodizio, the adventure cooking and visiting Hamburg Cathedral. And every team event ended with a delicious meal and a few drinks in a happy atmosphere." - Philipp (IT)
It would simply take too long to list all the past team events. But one thing is for sure: it never gets boring at allbranded! No matter if action, relaxation or party: from cooking to festival, everything was there. Even though the pandemic has slowed us down a bit, we are confident and can't wait for the many more team events at allbranded!
Our Highlights Of Recent Years
Whether it's fun team events, company parties or the moves to new offices, these moments are what make allbranded stand out and will certainly not be forgotten. Especially the colleagues who have been on board for a very long time have experienced which highlights have particularly shaped the company. From the establishment of an initial start-up, to the development of new departments, to growing positions in the company, many of us can proudly recount what we have witnessed over the past years. Whether it's the stressful run-up to Christmas or the summer, there really is never a dull moment at allbranded.
"The moments in the Christmas business when really EVERYONE (including the boss) lent a hand were unforgettable. The whole team took care of special orders, folded boxes, filled them with goods and finally packed them! It's a great feeling when everyone pitches in and you can celebrate the successes together at the end of the year!" - Steffi (Customer Service)
"Highlights were definitely always the team events and company celebrations, but also every move to a new office was an exciting event every time and brought new nice things (freezer with ice cube function, table tennis table, chilled sparkling water from the tap, ...). For me personally, the rise from "Head of Logistics" (a.k.a. parcel packer) to product data manager and finally the change from Excel product lists to IT were very nice moments. - Philipp (IT)
At allbranded, each of us has the chance to grow beyond ourselves and take on new challenges. Every day is different and offers new opportunities to realise ideas. Our new colleagues were also able to experience this quite early on. "It is surprising how many ideas can be implemented in such a short time. This is certainly due to the fact that everyone has the opportunity to take their own projects into their own hands and realise them. This is definitely motivating and brings a lot of variety into everyday life." - Dati (Marketing & Product, with us since 2021)
"I have been with allbranded since April this year. In this short time, I have learned a lot of new things and have taken on projects independently right from the start. Creativity is lived out here. Whenever you have new ideas, they can be implemented at any time. My highlights are then quickly realising that concepts work well and our online shop gains more reach as a result. That not only strengthens the shop, but also myself in my work." - Olivia (Marketing, with us since 2021)
The permanent growth of the company quickly created new departments and opportunities to quickly implement ideas and new concepts. This privilege is especially important for new employees. Because we want to use their spirit to grow beyond ourselves and bring a breath of fresh air into our online shop.
Unfortunately, There Have Also Been Low Points
We too have had not only good but also bad times during our development. Due to the large number of employees over the last decade, it is of course inevitable that some colleagues have gradually left us over the years. "During my time at allbranded there have been many, sad goodbyes, but where we tend to remember the good times and also look forward to welcoming and embracing new colleagues." - Raimo (Finance)
"It was also a small setback every time colleagues of many years' standing left us; each of them helped to shape and shape the company in their own way. But fortunately you always see some of them again at one company party or another. Once allbranded, always allbranded!" - Philipp (IT) As Philipp already mentioned, we regularly meet again at our team events and are happy to be in contact with the majority of our former team members. We had a great time together and will never forget it!
Of course, the Corona pandemic was a big setback for us. We also had to struggle with the fact that companies suddenly had less budget for advertising material. Nevertheless, this time has strengthened us and made us aware of things that would otherwise have been lost in the conventional daily work routine. We learned to run the company remotely and communicate only by audio or video. Despite initial hurdles, we have mastered this exceptional situation well and are looking optimistically into the future together!
Every Person Is Welcome In Our Team
Even though many people have already left us, we are even more looking forward to new faces in the office. Because allbranded thrives on the wealth of ideas and perspectives of new team members. Since the beginning of this year, a lot has happened in our marketing department. The team was newly formed and now consists of 5 different nationalities.
"I've settled in well and I'm excited every day to see what surprises the day has in store for me. Everyone is super helpful and here you really see what it means to work with team members on an equal footing. It's never boring at allbranded. Every day there is something new to solve, discover and learn. Even though I only got to know the team through the camera in the first few months, you felt close relatively quickly." - Dati (Marketing)
"From day one, the team was very helpful. You can contribute your own ideas at any time. There is a positive atmosphere in the team and transparency, which I really appreciate." - Jenny (Product, with us since 2021)
"Even though my time here started with a home office, I still felt very welcome very quickly. The team is super open-minded and you can always find someone to talk to. I'm all the happier that we're all back in the office now. The working atmosphere is great and I'm already looking forward to my first team event and many more years at allbranded! - Olivia (Marketing)
We Look Forward To Many More Years Of allbranded
As positive as we are looking back, we are also looking forward to the next 10 years with allbranded! We expect more cool projects, more great team events and of course many more fun moments with old and new colleagues. Why do we want to work together for more years? Read it for yourself!
"allbranded has a lot of potential to become much bigger in the future. And I definitely want to be part of it. Above all, everyone here is seen as a person and not as a worker. I have already worked in other companies where a lot was demanded of the employees. There's not much left of a work-life balance. Since my time at allbranded, I'm much more balanced." - Dati (Marketing & Product)
"I would say that I joined allbranded at a very important time and a big responsibility for big projects. For me, a company is all about its vision and the people behind it. Because allbranded is not a place, it's the people' ;) I have great colleagues here. It's fun, it's exciting and at the same time it's so easy to work with them. What makes me feel most positive is the fact that we are on our way to becoming a sustainable company, and its culture. It's so open and fresh." - Jenny (Product)
"Allbranded is a small company. Previously I tended to be employed by larger companies. At allbranded I feel much better. The colleagues are young and enthusiastic. The company develops very quickly and reacts efficiently to every obstacle. There is always something new! I have a freedom in my job that I have never experienced before. [...] Exchange of ideas is very welcome and encouraged. allbranded is like a small family where I want to work for a long time!" - Christophe (Sales, joined in 2018)
We say thank you to everyone who has accompanied us on this journey. Be it our customers, clients, manufacturers, suppliers or business partners - each of them has made a valuable contribution. We are sure that we will continue to appreciate this support in the future. But above all, we would like to thank all our (former) employees. Without you, allbranded would probably not exist. We are happy to have such a strong team at our side and look forward to the next ten years with allbranded!