Eco Friendly Corporate Gifts
Eco Friendly Promotional Gifts for Christmas
Looking for thoughtful and sustainable ways to spread holiday cheer? Consider our eco friendly promotional gifts for Christmas that will leave absolutely everyone speechless.
Embrace the spirit of giving while minimising your carbon footprint. From recycled ornaments to reusable tote bags and solar-powered decorations, these gifts not only bring joy to recipients but also support a greener planet. Make this Christmas season memorable with eco-conscious choices that show you value both your loved ones and the environment.
A few noteworthy promotional items you'll find here are our eco friendly promotional pens, eco stationery such as notebooks, we also stock up on a range of eco drinkware such as water bottle and mugs. However, if these classics don't float your boat, discover eco powerbanks or other gadgets.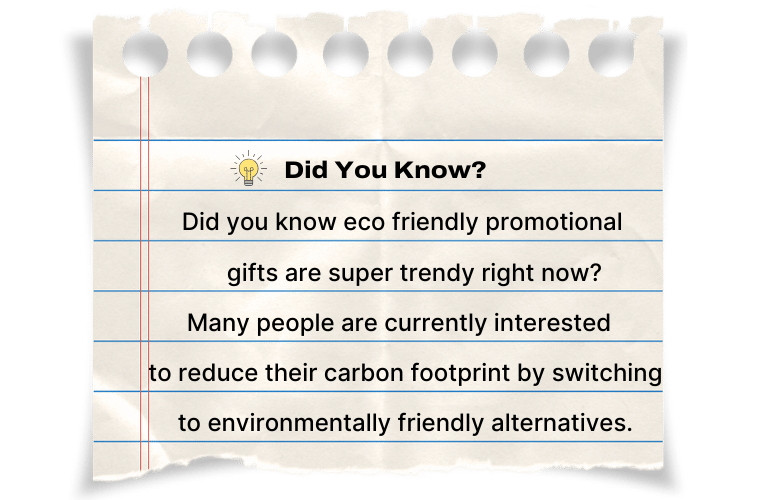 Benefits of Eco Friendly Promotional Gifts
Eco friendly promotional gifts offer several benefits such as:
Environmental impact: Eco-friendly promotional gift have a lower impact on the environment compared to traditional promotional items.
Positive brand image: You can improve your brand image by a positive association with eco friendly promotional products.
Brand visibility: Unique gifts like these stand out from the crowd and will increase your brand visibility.
Affordable:
Employee morale: Boost morale and instil a sense of pride among employees by shopping more sustainably.
Long-term impact: These gifts are designed to last longer, reducing the need for frequent replacements.
Frequently Asked Questions
Here are a few questions our have previously asked:
Are eco friendly promotional gifts suitable for Christmas?
Yes, of course. In fact eco friendly promotional gifts are suitable for any occasion or event, be it a holiday such as Christmas or Easter or an event such as a trade show or a corporate party. Eco friendly promotional products are more than just this year's trend, they are thoughtful tokens of appreciation.
Are eco friendly corporate gifts expensive?
Not necessarily, no. You can find affordable eco friendly corporate gifts with prices ranging from £1 to £50. Of course, you don't need to spend a fortune, just pick the one that suits your budget and shop all the corporate gifts you need for Christmas.
More
Less