Promotional Drinkware
Are you looking for customisable mugs and cups? Search no more. Here you can find a wide range of coffee cups, travel mugs, flasks, thermo mugs and so much more.
You can brand all these promotional products with your logo and turn them into a great company gift. Regardless if you're buying these for your clients, your employees or a special company event, mugs and cups are a promotional classic which can not be missing from a corporate hamper.
Table of Contents
About our Drinkware
According to the UK Tea & Infusions Association, Britons drink around 165 million cups of tea daily, which is around 3 cups a day per person. Whether at home, at work, at the gym or travel from one place to another, customised travel mugs and tumblers are more than just an item. It's something we choose based on our personality and can be filled with virtually any liquid; from warm tea in the winter to cold prosecco in the summer.
Are you looking for useful company gifts? Search no more. Our drinkware is just what you need, browse through a wide range of cups, mugs, flasks, tumblers and include these in this year's festive hamper for clients and employees.
Drinkware as Promotional Products
It is not secret the Brits love a good cup of tea (or coffee) and our nation's love of hot beverages makes customised mugs or cups the perfect company gift. Make the most out of it by printing your logo on one of these promotional products.
The brilliant thing about customised mugs is that they can everyday essential into an effective advertising space, making subtle advertising easier than ever! With consumers being so used to see ads everywhere, sometimes they tend to overlook it; which is why going way back to traditional promotional product marketing can be more effective.
Advantages of Promotional Drinkware
Drinkware is something we use on a daily basis
Everyone has a use for them, and can be turned quickly into a pen holder or even a vase
Your logo or slogan will be at the forefront
Large surface area, which makes your brand more visible
You have many styles and colours to choose from
Quick and easy customisation for absolutely all products
You can shop sustainable options without breaking the bank
Types of Drinkware We Sell
If you're unsure what to include in this year's Christmas hamper, look no further than our personalised drinkware. Browse our website and you will find the following:
Personalised cups (with or without saucers)
Customised travel mugs (with or without a handle)
Vacuum insulated options
Eco-friendly drinkware
Product with a content capacity ranging from as little as 125 ml to 1l
A variety of materials including metal, glass, plastic or ceramic
Different colours, designs and styles
Affordable customisation for absolutely all our products
FAQs
Why are promotional travel mugs so popular?
Hence, you can use this promotional product to your brand's advantage and stay top of mind all year round by simply branding a mug with your logo, colours or motto. Cups are high use items, as we all need a substantial amount of fluids from day to day, so you can rest assured - your brand will have repeat exposure to its target audience. Whether it's clients, employees or other business partners, they will all appreciate this useful and meaningful gift.
What's more, this is a timeless promotional product which can be gifted time and time again, regardless of season or occasion. Whether it's Christmas, Easter, a company event or a giveaway, travel mugs are everyone's favourite.
Do you offer eco friendly products?
Yes, we offer eco friendly products. In essence all our drinkware is eco-friendly as it's not intended for single use. However, we also offer options made of recycled materials such as this PLA can or this bamboo coffee travel mug. All you have to do is browse this page and search for the products with a green label.
What is the most popular drinkware product?
Some of the most popular products we have in our stock are travel mugs such as this insulated tumbler or ceramic mugs such as this one. All you need to do to get a promotion product like these is to browse our website and choose your favourite one.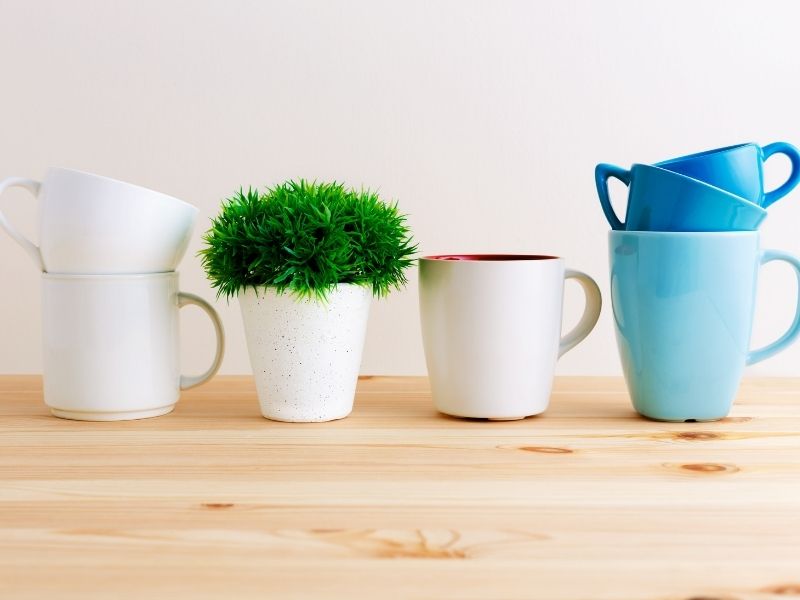 More
Less