Promotional Notebooks
Looking for corporate branded merch? Search no more! Our personalised notebooks are the perfect company gift regardless of occasion, season or receiver. Everyone enjoys receiving a high-quality notebook where they can write down thoughts, tasks and little reminders throughout the day.
This promotional product will make your brand stay top of mind all year round and it will be deeply appreciated by absolutely everyone - employees, clients, and other business partners. What are you waiting for?
Table of Contents
Personalised Notebooks as Promotional Products
Personalised notebooks are among the most popular company gifts, and thus these pads will be found in any handbag or briefcase today. Individually customised notebooks with your corporate design are among the promotional storage & organisation classics and the secret is in their universal practicality; these notebooks accompany customers, employees or business partners as an indispensable planning tool in their work and everyday life.
Whether you want to store ideas, sketch out thoughts and spontaneous inspiration, use your soft skills and write it down with a pen. The necessity of notebooks is unquestionable, and so is their promotional effect. Especially, a branded soft pen is the perfect combination with a promotional notebook. What would you do with a notebook without a pen? They fit in every little pocket, and you can hand it both out in branded bags. They are perfect marketing accessories and can push your customer relationship to the next level.
Benefits of Promotional Notebooks
Products like a branded notebook have so much marketing potential for your company. Every time someone searches for example for their key in their bags, they will be confronted with the logo of your company on the cover of the branded notebook.
High usage
High visibility on desk space
Great advertisement space
Universal in target audiences
Associated with creativity and organisation
Variety in colour, size and functions
Varieties of looks and materials
Eco-friendly options available
FAQs
What can I use promotional notebooks for?
Printed notepads and a matching pen make excellent gifts for your fellow desk buddies, employees, customers or incentives for clients-to-be. Give away notepads as gifts (or gift bags of pads, pens, mugs and umbrellas) at conferences or events where you get to know new business partners and new leads. Why? Because you can never have too many ideas and therefore too many mediums to preserve these on, coming particularly handy in lectures.
So next time you are sitting at your desk, with some pens in front of you, organize your thoughts, make use of our notebooks and find just how you can optimize colours, slogans and essentially your brand by simply making use of these customisable notebooks. Consider the visual association made by existing customers and customers-to-be, by making use of a product full of possible colours, that provides an outlet for their creativity; your brand will be synonymous with innovation, creativity and ingenuity.
Why are customised notebooks so popular?
The uses of products like printed notebooks are twofold; their primary practical use and their promotional capabilities are not to be discounted
Customised notebooks are so popular due to their many utilities. On top of the obvious intended purpose - that of writing notes, lists and other thing, notebooks can also be branded with a logo which makes them a great promotional product.
Another reason for their popularity, is their universal aspect. No matter what age, gender or role you have, we all need a piece of paper to write a quick thought when an idea comes up, hence absolutely everyone finds them handy.
Do you offer eco-friendly products?
Yes! Keep your eyes peeled for the 'Eco Friendly' label on our website, and you'll discover lots of sustainable options such as this cork cover notebook. Additionally, you can find notebooks and notepads from recycled paper as well as bamboo options.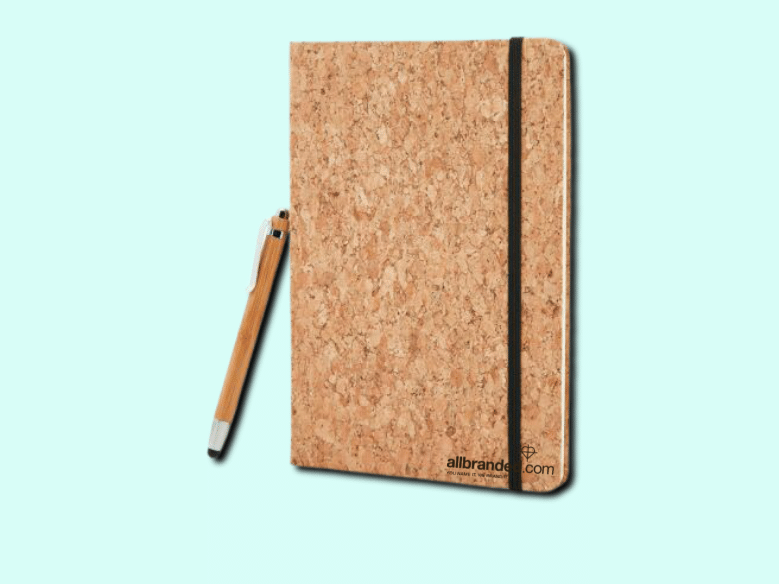 More
Less