Branded Water Bottles
Our water bottles come in a wide assortment of shapes and sizes and can be used to carry almost anything; that's what makes them the perfect promotional product, regardless of season. During summers, you can carry fresh water or lemonade and during winters you can carry warm tea or hot chocolate.
What's more, whether you're searching for drinking or sports bottles made of metal, glass, plastic or Tritan, we have it all, so you can use the bottles for a wide range of purposes.
The best thing about these promotional products, is that they can be branded with your company's logo and be gifted to your VIP clients and employees as a sign of appreciation. The durable ad will keep your brand top of mind all year round as an eco-friendly brand with high-quality products.
Table of Contents
About Drinking Bottles
The human body consists of 70% water and for a healthy life everyone should drink at least 2 litres of water a day. In a nutshell, we need water to survive, and this liquid is synonymous with health, fitness, vitality and a healthy and wholesome lifestyle.
Nowadays, drinking bottles are available in all shapes, colours and sizes; and can be used to carry around almost every liquid. If you need a warm cup of tea in winter or a cold smoothie in summer, a drinking bottle can do all that for you and much more.
Personalised Water Bottles as Promotional Products
A promotional product that reminds us about this basic need are personalised water bottles. Water bottles are used often on a day-to-day basis - whether at home, at work, at the gym or in the car, everyone owns at least one of these useful bottles.
Discover now the assortment offered on our website and simply customise the ones you like most with your logo and your business colours and keep your employees and clients happy. This is the perfect recipe for success. Not only is this the perfect way to bond with your clients, but showing you care about their needs is going to put your brand on the map and strengthen your collaboration.
Types of Personalised Drinking Bottles
Regardless of what you're looking for, we have it all. Browse the online shop, and you shall find the following types of bottles:
Foldable
Sports
Vacuum Insulated
Plastic, glass or copper
With or Without a Straw
With or Without a Handle
With or Without an Infuser
Everyone Needs Branded Water Bottles
Arguably a product with the highest user-value, drinking bottles open entirely new plains of advertising reach for your company. Drinking is a basic human need; by extension, drinking bottles become just as vital and necessary. By personalizing drinking bottles with your personal claim or brand, your advertising campaign reaches not only those to whom the products have been distributed – others around your target audience, even regular passers-by, all will come into contact with your brand name and logo.
This will make for an effective campaign that extends far beyond the initial target audience. Sports as running, polo or gymnastics are taxing, and you definitely need a big shot of water after your training sessions. For this reason, a promotional bottle is used day by day. In addition to bottles, we offer branded bags or mugs. The mugs in plastic or aluminium are perfect for hot drinks. For more information, contact our customer service.
FAQs
What are branded water bottles used for?
If you're thinking about including a personalised water bottle in this year's festive hamper, but you are not sure whether it's going to be actually used; keep reading! Not only is this an eco-friendly product, but its versatility is going to be loved by everyone.
These promotional products can be used while exercising at the gym, jogging in the park, while having a picnic or simply while travelling from home to work. During a workout, run, team meet or gym routine – a drinking bottle is essential in instilling any target consumer with the endurance, strength, and energy they need to continue.
However, the reach of these ergonomically-formed drinking bottles does not end there; our thermo flasks are perfect for the frequent flyer as well. Now let these multi-functional drinking bottles extend your campaign and brand name to new heights! To do sports and get fit with a promo water bottle in your favourite colour is motivation enough.
What are the advantages of personalised water bottles?
Due to the fact that water bottles is something we all use on a daily basis, you can be sure this branded merchandise will not end up in a dusty corner, but will be used regularly by clients, employees and business partners alike. A regularly used, day to day item with a beautiful and elegant designed is certainly going to be used for a long time.
On top of the obvious health benefits, our personalised water bottles can be used for effective advertising; not only can it be designed to be as aesthetically pleasing to the target audience as possible, but it can stand alongside classic advertising items as our ball-pens and lighters in a beautifully wrapped hamper.
Above all benefits is the eco-friendly aspect. Instead of buying loads of plastic bottles, a reusable one can be used for warm as well as cold beverages through the entire year, helping to cut down on your carbon footprint and reduce the plastic consumption. Isn't that great?
Do you offer eco-friendly water bottles?
Yes! In essence, all reusable water bottles are eco-friendly because after you've drunk the liquid you don't throw it away, but take it with you and refill it for the next day; this makes the product itself eco-friendly. But we also offer customisable bottles made from recycled materials such as this Impact double glass bottle.
Why are personalised water bottles so popular?
They are affordable, eco-friendly, you can fill them with almost every liquid and can be used by virtually everyone. Personalised water bottles have always been a loved promotional product by employees and employers alike. What's more, because it can be used at home, at the gym or at the office, you can be sure it won't end up unused in a dusty corner.
Last but not least, you can customise however you like, and your logo will be displayed for a very long period of time at no extra cost. What's not to like about them?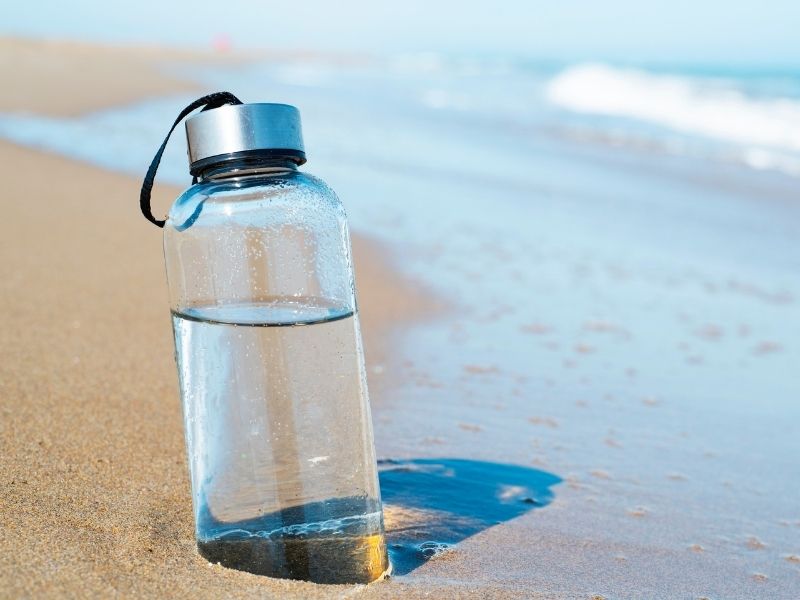 More
Less